Storage in Aarhus Nord
Aarhus Nord is the largest branch in Dit Pulterkammer®. It has existed since 2005 and has more than 800 Self Storage units at their disposal. Our storage units range in size between 1 and 60 m3. About one third of our customers make use of our commercial storage while the rest are private customers.
Access to your storage items
Facilities and telephone +45 87 37 02 03
7 days a week between
06:00 and 23:00
Address
Dit Pulterkammer Aarhus Nord
P. O. Pedersens Vej 14
8200 Aarhus N
Face-to-face service
Call us at +45 87 37 02 03 if you need:
Face-to-face service on the premises
A tour of the facilities and an estimation of your storage needs
Further information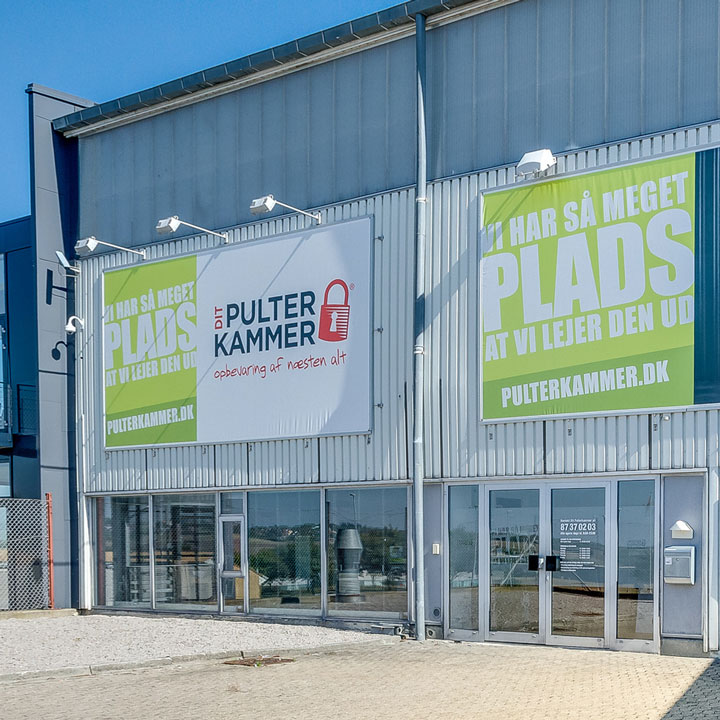 Storage in Aarhus Nord – secure and always easily accessible facilities
The Aarhus Nord branch is located close to IKEA and motorway E45, Exit 46. You can also quickly reach Dit Pulterkammer by bus; bus line 3 stops right in front of our door. Our location makes it very easy to access your storage items from these areas:
Hjorthøj
Hinnerup
Lystrup
Daily temperature and air humidity control
Over the years, Aarhus Nord has stored the equipment and the gear of many musicians when they were not touring. At Dit Pulterkammer we check temperature and air humidity on a daily basis, and our storage units are always dry and have the right temperature. This means that you can relax when leaving your electronic equipment with us.
Aarhus is the city of the students
If you want to spend your fourth term of study in Australia or in the USA, Aarhus Nord would be pleased to help you with easy and inexpensive storage while you are away. We have storage units in sizes that suit any need. Or maybe you are a foreign student in Denmark who needs storage space? For example, we have many students from the Faroe Islands who store their belongings with Dit Pulterkammer when going home to the Faroe Islands for a long period. Regardless of your need, please feel free to call us – or drop by.
You can also use our unit and space calculator and online booking, where you pay right away. This is easy, and you can then quickly move your belongings in with Dit Pulterkammer.
Pictures from Dit Pulterkammer Aarhus Nord
Click and have a look inside at Dit Pulterkammer Aarhus Nord