Strong moving boxes – probably the lowest prices in Denmark!
Are you thinking of moving? Maybe you need to pack some of your home contents into boxes to store them? In that case, you'll find the best and lowest priced moving boxes of the market at Dit Pulterkammer®. You don't need to rent a storage unit with us to buy our moving boxes. You can buy them at one of our facilities in Aarhus Nord, Aarhus Syd, Aarhus Vest, Randers or in Kolding.
We think outside the box
You may think we sound a bit square when talking about moving boxes. But we have many other good offers: Flexible Self Storage units in heated, clean and safe units, online booking of storage units, space calculator and borrow a trailer for free.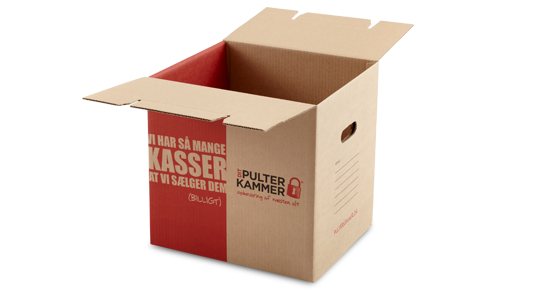 Boxes for books
10 pcs. 69,-
Boxes for books is one of our specialities, and we provide you with boxes which are ideally suited for storage and transport of books.
W: 40 x D: 35 x H: 39 cm. Weight capacity 18 kg.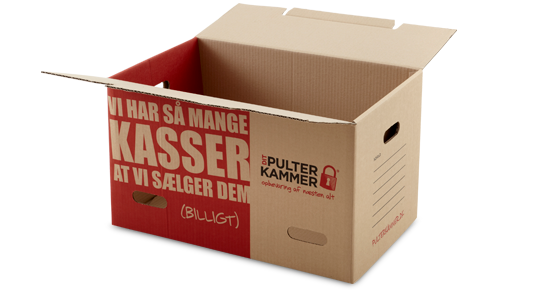 Budget
10 pcs. 69,-
Budget moving boxes are the lowest priced moving boxes in Denmark – if you want a bargain.
W: 59 x D: 37 x H: 35 cm. Weight capacity 16 kg.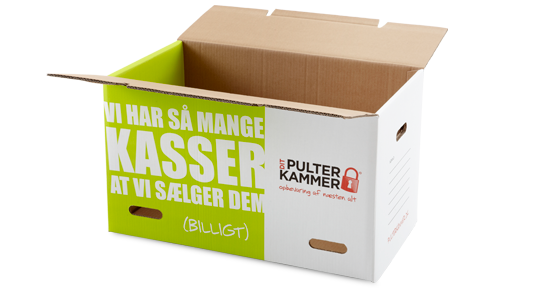 Professional
10 pcs. 249,-
Our moving boxes – model Prof – hold 90 litres and are of a very strong quality.
W: 67 x D: 39 x H: 40 cm. Weight capacity 33 kg.
Prices of moving boxes and padlocks
| | |
| --- | --- |
| Moving boxes Boxes for books 10 pcs. | 69,- |
| Moving boxes Budget 10 pcs. | 69,- |
| Moving boxes Professional 10 pcs. | 249,- |
| Padlock with key | 59,- |
| Padlock with code | 105,- |
Key pieces of advice for those of you who are moving into a new home
Use moving boxes
Pack your belongings in regular moving boxes. Moving boxes are designed for their purpose: they can take a few knocks and are easy to handle when you need to store and stack them. This allows you to make better use of the moving van and the storage unit. Jot down the contents on each of the moving boxes and storage boxes – this will make it easier for you to find your belongings again.
Use tape and tissue paper
Use tissue paper instead of old newspapers for wrapping fragile items. In this way you avoid remnants of printing ink. It is often worth the effort to tape the paper onto the item, and the broad tape is terrific for keeping together the special screws for the wall lamps – it is a good idea to tape the screws onto the cord.
Avoid the classic mistakes
Do not pack all your books or wine bottles into the same moving box. One single book or one single bottle does not weigh much, but a moving box full of books is very heavy. You should also pack your drinking glasses and porcelain in more than one moving box. Your fine crystal glasses won't survive if they are on top of each other in the same box, and if they are put down a bit too hard.