Dit Pulterkammer always offers both security and service.
This applies to our branches in Aarhus Nord, Aarhus Syd, Aarhus Vest, Randers and in Kolding.
9 good reasons for choosing Dit Pulterkammer
Book and pay online
Online booking gives you access to Dit Pulterkammer® within 30 minutes. When you have finished your booking, you will receive a rental agreement which allocates a unit and password to enable you to access the facilities. You can go to the facilities right away and let yourself in with your personal code, find your unit and move in your belongings. When you leave Dit Pulterkammer, lock it with your own padlock.
Two weeks' right of cancellation
If you regret, you must within 14 days, from the date on which the rental is ordered, notify Dit Pulterkammer that you wish to cancel your purchase. You simply let us know by sending an email to info@pulterkammer.dk
If the right of withdrawal is used and the move-in date has been reached, you pay for the days on which you have occupied or used the storage space.
Access from 6:00 to 23:00
Dit Pulterkammer is open from 6:00 to 23:00, 7 days a week, all year round. Don't forget to leave Dit Pulterkammer before 23:00. At that time, the alarm will be activated, and your personal code will not work any longer. If you need any face-to-face assistance, please let us know. We focus on being close to our customers, which is why you can always get in touch with one of our staff.
Loyalty discount
Dit Pulterkammer wants to reward regular and loyal customers. For this reason, you can save money if you stay for some time. You can "commit" yourself for a long period, and the longer you "commit" yourself, the bigger the discount. View our discounts under Loyalty discount.
Short term of notice
We have a short term of notice, and you do not need to give notice on a particular day. The period from the date of notice until the rental is terminated will be two weeks at most. If you have paid too much, we will return to you any remaining amount when you have moved out of the unit.
Satisfied customers
All of our staff work each day to give our customers the best service. We often ask our customers to rate us at TrustPilot, and we are proud of what the customers write about us. Go to www.trustpilot.dk and see how others describe their experience of Dit Pulterkammer®.
Video surveillance
All of our facilities have access control and video surveillance. This ensures that your belongings are kept safe. Video and data of traffic in the facilities will be stored in accordance with the existing laws.
Optimal indoor climate
Dit Pulterkammer is always heated to at least 13 degrees Celsius. This ensures safe storage of your furniture, carpets, clothing, and electronics without any fear of damage. Effective air circulation also ensures that your belongings will not be damaged by damp.
Borrow a trailer for free
As a Dit Pulterkammer customer you can borrow a trailer for free one day at a time. You are limited to one booking at a time because we want to offer as many customers as possible this free service.
Honest and personal
Call us or drop by. We are ready to meet you and talk with you about your storage needs – and we will quickly find the right solution – and at the right price. This is because we have no hidden fees or long terms of notice. Instead, we have storage units in all sizes, so that we can adapt your rental to your storage needs on an ongoing basis.
Safe and efficient
The area is under video surveillance and secured with fence and electric gates. You can access the area via a personal, five-digit PIN code and your individual padlocks on the storage unit door. Our storage units are clean and heated – and your belongings are kept safe in every respect.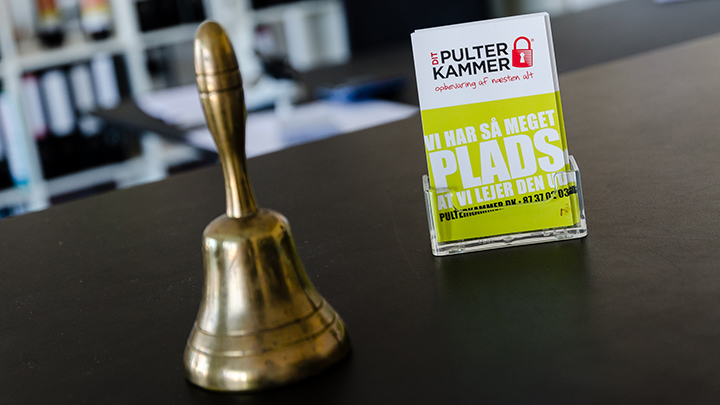 Help and personal service is always available by phone – 7 days a week from 06:00 to 23:00.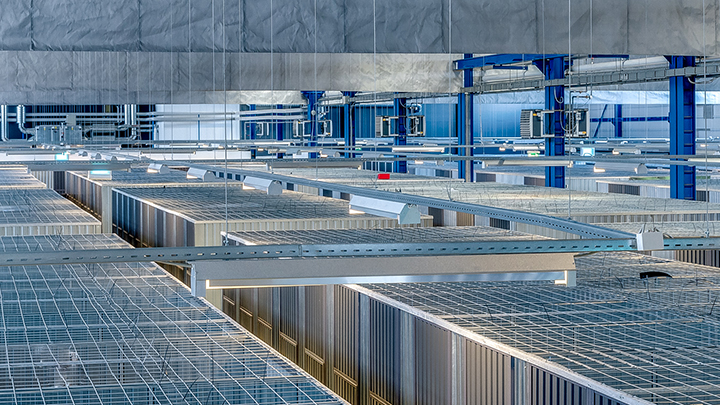 All of our facilities are heated and have optimal indoor climate, which means that you can feel reassured when storing all types of belongings with us.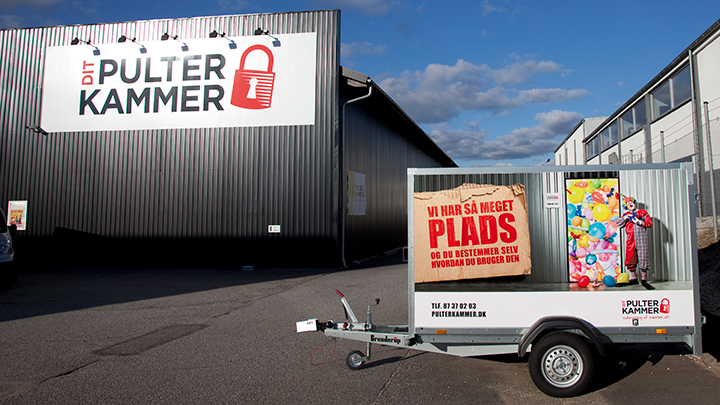 As a customer with Dit Pulterkammer you can borrow a trailer free of charge. The trailer will be made available to you at the branch where you want to pick it up.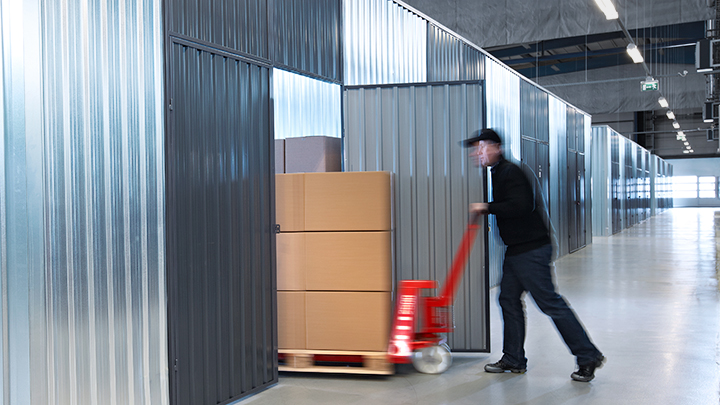 At the entrance to our facilities, a sack truck, transport trolleys and a pallet truck are available to you free of charge.