Storage in Aarhus Syd
Dit Pulterkammer® in Aarhus Syd has existed since 2000 and is the second largest of Dit Pulterkammer's departments. The Aarhus Syd branch, which is located in Højbjerg, has at its disposal about 1,000 storage units as well as outdoor storage facilities in our fenced area which is under round-the-clock surveillance. The size of our storage units ranges between 2 and 60 m3.
Access to your storage items
Facilities and telephone +45 87 37 02 03
7 days a week between
06:00 and 23:00
Address
Dit Pulterkammer Aarhus Syd
Michael Drewsens Vej 3
8270 Højbjerg
Face-to-face service
Call us at +45 87 37 02 03 if you need:
Face-to-face service on the premises
A tour of the facilities and an estimation of your storage needs
Further information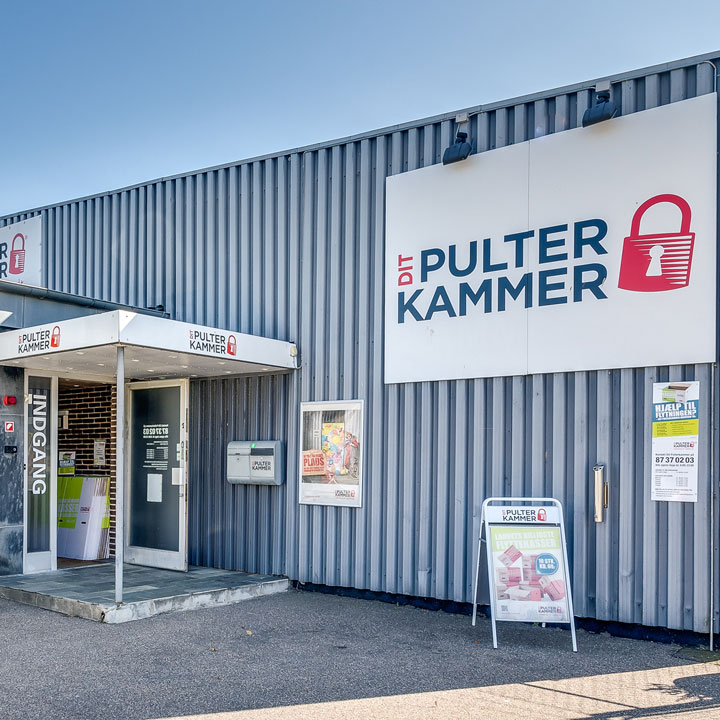 Storage in Aarhus Syd for customers from far and near
Dit Pulterkammer in Aarhus Syd also takes care of the customers in the Southern regions – actually, also in Malta. However, most of our customers are a bit closer and typically come from areas like:
Højbjerg
Viby
Stautrup
Skanderborg
We are easily accessible via Viby Ringvej, Oddervej and the motorway E45, but you can also go by bus – a few bus lines go almost to the door.
Storage of everything between hair products and motorhomes
The vast majority of our customers are private customers. Over the years, our customers have ranged from musical associations that needed a storage unit for their music library and instruments to people who needed a storage unit for exotic collections. We also have a customer with two private cars which were previously exposed to vandalism. But now one car is always securely fenced and under surveillance in our facilities. Dit Pulterkammer in Aarhus Syd also has business customers. For example, our outdoor storage facilities are used by an institution, where they have their motorhomes stored next to the cars that we store for car dealers. At the indoor storage hotel, we store both hair products and wine, and with our temperature-controlled storage unit we can store almost anything in a safe and secure way.
Aarhus Syd, Højbjerg – close to the customers
In more than one sense, we are close to our customers. We have a close relationship to many of the loyal customers who have made use of our storage facilities for a number of years. We would be pleased to offer you a personal service. Please do not hesitate to contact us about advice and guidance – in this way, you will get exactly the storage solution that matches your needs. You can also use our unit and space calculatorand online booking, where you pay right away. This is easy, and you can then quickly move your belongings in with Dit Pulterkammer.
Pictures from Dit Pulterkammer Aarhus Syd
Click and look inside at Dit Pulterkammer Aarhus Syd