Storage in Kolding
Since the opening in 2007, Dit Pulterkammer® in Kolding has handled storage for a wide range of private customers. We still do, and today around one third of our customers are commercial customers who make use of our storage hotel with facilities for pick and pack warehouse, archive, or depot.
Access to your storage items
Facilities and telephone +45 87 37 02 03
7 days a week between
06:00 and 23:00
Address
Dit Pulterkammer Kolding
Essen 8A
6000 Kolding
Face-to-face service
Call us at +45 87 37 02 03 if you need:
Face-to-face service on the premises
A tour of the facilities and an estimation of your storage needs
Further information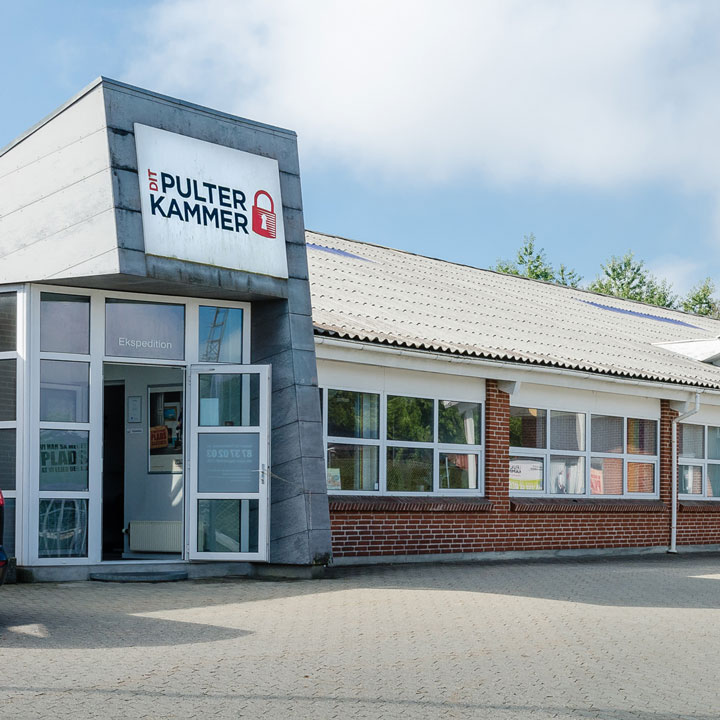 Storage in Kolding – we cover the Triangle Region and southern Jutland
At Dit Pulterkammer in Kolding we have more than 254 storage units at our disposal, with sizes ranging from 2 to 135 m3. Our facilities are temperature-controlled and under video surveillance, and this means that you can feel safe when leaving your items with us.
We store everything from vintage wine to photo equipment. Dit Pulterkammer in Kolding is close to Kolding Storcenter and to Exit 65 on the E45 motorway – so you can easily access your stored items from anywhere in the Triangle Region and from the south of Denmark. This is why we have customers from for example:
Athletes, removal firms and other good people
Birds of a feather flock together, as the saying goes. And at Dit Pulterkammer in Kolding, we provide storage space for a wide range of people, among others, volunteers from the local sports associations, sales reps and families who need storage space for their grill or golf equipment.
Common to all of our customers is that we help them calculate precisely the storage space that they need – in this way, they will not pay for more than they need. And if you need removers for transporting – and perhaps for packing – your belongings, we also have a good cooperation with a few local removal firms. Call us to get more information of your possibilities for storage. Our phones are manned 7 days a week from 06:00 to 23:00.
You can also use our unit and space calculator and online booking, where you pay right away. This is easy, and you can then quickly move your belongings in with Dit Pulterkammer.
Photos from Dit Pulterkammer Kolding
Click and look inside at Dit Pulterkammer Kolding