Storage in Aarhus Vest
Since 2009, we have at Dit Pulterkammer® in Aarhus Vest ensured our customers professional and flexible storage in the western part of Aarhus. Dit Pulterkammer in Aarhus Vest is located close to residential areas, industry, and motorway E45. And the proximity to residential areas, dormitories and the inner city of Aarhus is no coincidence, as we focus on providing storage units to private persons.
Access to your storage items
Facilities and telephone +45 87 37 02 03
7 days a week between
06:00 and 23:00
Address
Dit Pulterkammer Aarhus Vest
Sommervej 17
8210 Aarhus V
Face-to-face service
Call us at +45 87 37 02 03 if you need:
Face-to-face service on the premises
A tour of the facilities and an estimation of your storage needs
Further information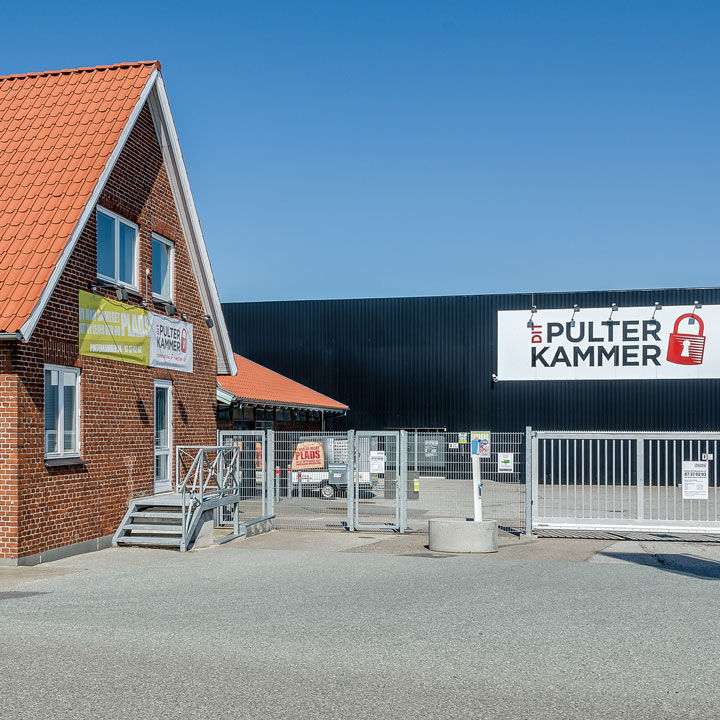 Storage in Aarhus Vest – space for business solutions
We also provide service to a range of businesses. In fact, around a quarter of our customers are business owners who make use of our storage facilities, and the proximity to Exit 47 on the E45 motorway makes entry and exit at these facilities easy. Not only from the inner city of Aarhus, but also from surrounding areas like:
Secure storage of everything under the sun
Dit Pulterkammer in Aarhus Vest has storage facilities for almost anything. For example, we have a few business customers from Bazar Vest, an online wine shop and several photographers who use our storage hotel. This is because our storage units and our storage hotel are well insulated, temperate and under video surveillance around the clock. In this way, you can feel reassured when storing both electronic equipment and vintage wines.
Some good advice on storing items
If you are a private customer, we have space for virtually everything you might need to store. And besides space, we also have some good advice for you: Instead of renting a big storage unit, it might in many cases be a good idea to rent two small units. Then it is easy for women to get hold of their dresses and their high-heeled shoes, while gents won't have to move 46 moving boxes aside to get access to their fishing gear or their snowboard.
Call us at any time for more advice and guidance and let us give you the storage solution that suits your needs. You can also use our unit and space calculator and online booking, where you pay right away. This is easy, and you can then quickly move your belongings in with Dit Pulterkammer.
Pictures from Dit Pulterkammer Aarhus Vest
Click and look inside at Dit Pulterkammer Aarhus Vest